La Regina Legend Cruise 2 Days 1 Night
Cruise name: La Regina Legend Cruise

Destination: Hanoi - Halong Bay - Lan Ha Bay - Hanoi
Duration: 2 Days 1 Night
Price: $265.00 $212.00












La Regina Legend Cruise - 2 Days 1 Night on Boat
Day 1
: Hanoi - Hai Phong - Lan Ha Bay - Overnight on Boat
Day 2
: Lan Ha Bay - Hai Phong - Hanoi
Tour Itinerary
Day 1: Hanoi - Hai Phong - Lan Ha bay
09:00 - 09:30:
La Regina Legend Cruise luxury limousine picks you up at your hotel at Hanoi Old Quarter to travel to La Regina Private Lounge - arrive at around 11h30. The 2 - hour journey from Hanoi to Got Ferry via the new Hanoi - Hai Phong highway is seen as a much quicker and smoother than the classic 4 - hour drive to other ferries in Halong City. It's a huge advantage when cruising with La Regina Legend Cruise.
12:30:
Let your vacation start with a welcome drink and wet towel during the time that our Cruise Manager introduce the safety briefing. The boat start to cruise to Lan Ha bay.
13:15:
Delicious set menu lunch is served in La Corona restaurant.
15:30:
Feel free to discover Trung Trang cave, one iconic and historic cave in Cat Ba island
17:30 - 19:00:
Enjoy your time with the beautiful sunset on the bay and join "Happy Hour" - 30% Discount off all drinks onboard
18:30:
Join our Cooking Class on sundeck with the Chef on boat and learn how to prepare one of the most iconic dish of Vietnamese cuisine.
19:30:
Dinner is served on sundeck if the weather permit
21:00:
Other option is to try yourself at Squid Fishing at the reception or watching movie in the La Magia Restaurant on the third floor
Day 2: Lan Ha Bay - Hai Phong - Hanoi
06:15:
Start your day with a Taichi session on the sundeck
06:45:
Light breakfast is served in La Corona on the second floor
07:30:
The boat anchor at Tra Bau area, it is time to discover the natural beauty of Lan Ha bay by kayaking or swimming.
09:00 - 09:45:
Back to the main boat for relaxing and check out at the reception, please put all your luggage at the outside of your cabin, crew member will help to bring luggage on land.
09:45:
Brunch is served in the restaurant while the boat heads back to the harbor.
11:30:
Disembark at the harbor
Included:
English speaking tour guide on boat
All meals aboard as mentioned in the itineraries
Kayaking, Cooking class, Tai chi exercise,
Bamboo boat, Swimming (if the weather permits), Movies, Squid fishing, Music entertainment.
Sightseeing entrance fees
Luxury cabin with A/C
Welcome drink, cold handkerchief, fresh flower, two bottle of mineral water in each suite.
Excluded:
Airfare, visa arrangements
Beauty Spa Services & Massage
Beverages, tips, gratuities and other personal expenses
Surcharge for Xmas, New Year's Day & Lunar New Year's Day
All other services not clearly mentioned above
Children Policy:
Rates for teenager of 12 years old and above will be treated as adults
02 children from 6 - 11 years old need to book one room separately from adults, 75% of rate for adults will be charged per child
01 child under 06 years old staying in the same room with 1-2 adults - Free
02 children under 06 years old staying in the same room with 1-2 adults (01 extra bed) - 75% of adults rate
01 child from 06 - 11 years old staying in the same room with 1-2 adults (01 extra bed) - 75% of adults rate
Amendment & Cancellation
Applied For Fit (Less than 06 cabins)
15 days or more prior to check in - No cancellation charge
Within 14 to 10 days prior to check in - 50% charge of total rate
Within 09 to 03 days prior to check in - 70% charge of total rate
Within 03 days prior to check in or no notice or no show - 100% charge of total rate
Applied For
Git And Charter
45 days or more prior to check in - No cancellation charge
Within 45 to 31 days prior to check in - 25% charge of total rate
Within 30 to 15 days prior to check in - 50% charge of total rate
Within 14 to 07 days prior to check in - 70% charge of total rate
Within 06 days prior to check in or no notice or no show - 100% charge of total rate
LA REGINA LEGEND CRUISE - TOUR OPTIONS
:
Price & Booking
La Regina Legend Cruise Other Tours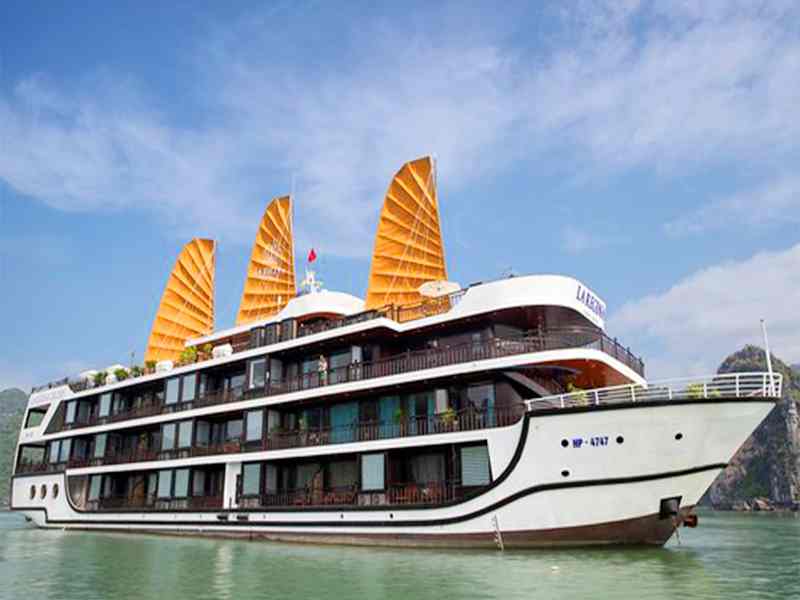 La Regina Legend Cruise - 3 Days 2 Nights on Boat
Day 1: Hanoi - Hai Phong
Day 2: Lan Ha Bay - Halong Bay
Day 3: Lan Ha Bay - Hai Phong
More Halong Bay Tours