Signature Cruise Private Charter 3 Days 2 Nights












Signature Cruise Private Charter 3 Days 2 Nights
Day 1
: Hanoi - Bai Tu Long Bay - Vung Vieng Fishing Village (Lunch/ Dinner)
Day 2
: Cong Dam (Breakfast/Lunch/Dinner)
Day 3:
Thien Canh Son Cave - Bai Tu Long Bay - Hanoi (Light breakfast/Brunch)
Tour Itinerary
Day 1: Hanoi - Bai Tu Long Bay - VungVieng Fishing Village (Lunch/ Dinner)
07:30 - 08:00:
Make your way through the Red River Delta from Hanoi to Halong City via your transfer vehicle.
Breaking time will be arranged for your best comfortable.
12:30:
Your cruise will begin with a transfer from the mainland on our excursion boat which will transport you to our main vessel, Signature Cruise. Upon boarding you will be greeted by our friendly Crews and enjoy a complimentary welcome drink. After a brief introduction and safety procedures overview, you will be checked into your cabin and have some free time to relax and explore the craft.
13:15:
A delicious lunch will be served in our main dining room as we slowly cruise through the magnificent limestone formations which make up Halong Bay. Feast on delicious seafood and range of other delicious dishes as we make our way deeper inside Halong Bay.
15:00:
Head to Vung Vieng fishing village by local rowing boats to explore the interesting daily lives of its inhabitants.
16:30:
Back onboard Signature Cruise Halong Bay's main craft we will drop anchor for our overnight stay surrounded by incredible landscape
17:30 - 18:30:
Happy hour with special drink menu (Buy one get another one for free)
17:30:
We will conduct a Vietnamese cuisine cooking demonstration and invites you all to participate in the preparation of these mouth-watering delights.
19:15:
Your dinner this evening will be served in our main dinner.
20:45 - 00:00:
Evenings are beautiful on Halong Bay, and just because the sun goes down doesn't mean the night is over. Take advantage of our onboard facilities or just relax to your heart's content. Relax at our fully stocked bar with an assortment of local and international favorites. Try your luck at night squid fishing, watch a documentary film or simply relax on our roof top deck.
Day 2: Cong Dam (Breakfast/Lunch/Dinner)
06:30:
Early birds are welcome to attend sunrise Tai Chi on our upper deck and it's an excellent way to get your energy levels up for today's adventures. You will be fascinated by the exquisiteness of Halong Bay in the early hours as you enjoy a coffee, tea.
08:00:
Enjoy a buffet breakfast with best local coffee brand and freshly fruit juices.
09:00:
Next we board our Signature Day Boat to head to Cong Dam Area, best known for its crystal clear sandy beaches. Enjoy kayaking, swimming or just relax on a stunning secluded beach.
12:00:
Have lunch with Signature set menu on our day boat.
15:30:
Back on board Signature Cruise, take some time to freshen up, take a nap or just relax at your leisure as we cruise to our overnight area. Witness one of the most brilliant sunsets you will ever see.
17:30 - 18:30:
Bar opens for Happy Hour "Buy one get one free"
17:30:
Enjoy cooking demonstration to discover our Vietnamese cuisine of traditional spring rolls
19:15:
A special dinner will be served offering you outstanding food and quality service.
20:45 - 00:00:
This evening is yours to enjoy whatever you please. Tonight we will hold a movie night with a selection of films available. We also have a selection of board games for your entertainment. Our bar is always open and is an ideal place to meet new people and share stories about your adventures.
Day 3: Thien Canh Son Cave - Bai Tu Long Bay - Hanoi (Light breakfast/Brunch)
06:30:
The best time to observe Halong Bay is in the early morning and we suggest that if you didn't get to witness it yesterday that now is your last chance. Tai Chi will be conducted again today on our upper deck and is a terrific way to feel as one with the peaceful surroundings.
07:30:
Light breakfast will be served this morning.
07:30 - 08:30:
Enjoy the last stage of your trip in Thien Canh Son cave and islets, which is a wild and mysterious beauty in the middle of the World Heritage
09:30:
Check out of your cabin and enjoy the last stage of your trip with a delicious brunch as we continue to cruise back towards harbor through scenery.
11:15:
After a final farewell from our staff, you will be transported back to Halong City wharf via our Tender for your transfer back to Hanoi. We trust you had a pleasant journey on Signature Cruise Halong Bay and hope to have the pleasure of your company with us again.
12:00 - 12:30:
Get on shuttle mini bus and get back to Hanoi.
Included In The Cabin Rates:
Welcome drinks with warm/cold tissues
Entrance fees and sightseeing fees
Accommodation in luxury air-conditioned en-suite cabin with private Jacuzzi.
In house English speaking guide
2 days - 01 lunch, 01 dinner, 01 morning snack, 01 brunch.
3 days - 02 lunches, 02 dinners, 01 morning snack, 02 brunches.
Fresh flowers setup
Fruits setup in cabin
Taichi session, bamboo boat in fishing village, cooking demonstration, night squid fishing.
A bottle of wine in Exclusive Family Suite, Elite Family Suite and Royal Suite Cabin
Excluded In The Cabin Rates:
Airfares, transfers to and from Ha Long Bay
Visa arrangements
Beauty spa and massage services
Other beverages, tips and personal expenses
All other services not clearly mentioned
V.A.T
Children Policy:
Free of charge for one child below the age of 5 years traveling with two adults, sharing bed with 2 adults. Limited one child per cabin only
Children from 5 to below 12 years of age sharing a cabin with two adults on one bed are charged at 50% of adult rate, limited to one child per cabin only.
Two children below 12 years sharing a private cabin are charged at 75% of the full cabin rate. Child from the age of 12 must occupy a separate cabin and pay the full cabin rate.
SIGNATURE CRUISE - TOUR OPTIONS:
Price & Booking
Signature Cruise Private Charter Other Tours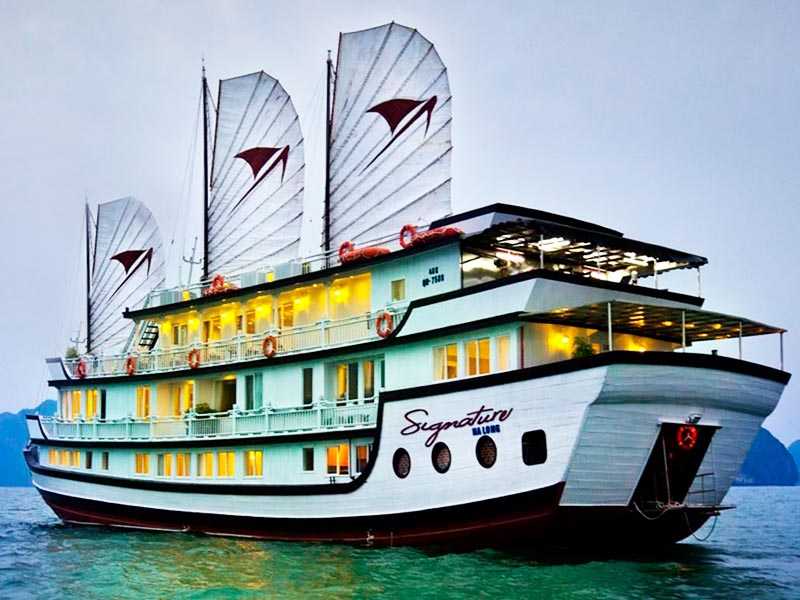 Signature Cruise Private Charter 2 Days 1 Night
​Day 1: Hanoi - Bai Tu Long Bay (Lunch/ Dinner)
Day 2: Thien Canh Son Cave - Bai Tu Long Bay - Hanoi (Light Breakfast/Brunch)
More Halong Bay Tours