La Regina Grand Cruise 3 Days 2 Nights
Cruise name: La Regina Grand Cruise

Destination: Hanoi, Tuan Chau Harbour, Halong Bay, Lan Ha Bay
Duration: 3 Days 2 Nights
Price: $426.00 $386.00












La Regina Grand Cruise 3 Days 2 Nights
Day 1
: Hanoi - Tuan Chau Marina - Halong Bay - Lan Ha Bay
Day 2
: Viet Hai village biking - Ba Trai Dao kayaking and swimming
Day 3
: Viet Hai fish farm - Cai Beo ancient fishing village - Quan Y hospital cave relic - Hanoi
Tour Itinerary
Day 1: Hanoi - Tuan Chau Marina - Halong Bay - Lan Ha Bay
08:45 - 09:15:
LA REGINA GRAND CRUISE luxury limousine picks you up at your hotel at Hanoi Old Quarter to travel to La Regina Private Lounge.
11:45:
Arrive at Le Regina private lounge, enjoy welcome drink and express check-in before boarding.
12:30:
Transferred by speed boat to La Regina Grand Cruises. Welcome aboard the cruise, refresh with our welcome drink while Cruise Manager briefing cruise orientation, activities & on board safety. The boat starts to cruising to Lan Ha bay.
13:15:
Delicious lunch is served in Ha Long restaurant while the cruise is passing Chan Voi (Elephant Feet), Van Boi and Tra Bau area.
14:30:
Start your first off - board activity, taking bamboo boat row to discover the Dark & Light Cave
15:30 - 17:00:
Cruise further to Van Boi - Ba Trai Dao (Three Peaches) - the most ideal paradise for swimming and kayaking
18:00 - 18:30:
Indulge your time with the beautiful sunset cocktails and cooking demonstration on breezing sundeck
19:30:
Enjoy BBQ candlelight dinner on the sundeck. After dinner, it's your choice for a fun squid fishing or relaxing.
Day 2: Viet Hai village biking - Ba Trai Dao kayaking and swimming
06:00:
Greet the new day with a Taichi session on the sundeck
06:30:
Light breakfast is served
07:45:
Taking a short tender ride to visit Viet Hai Village - start your biking on a paved road
10:30:
Bike back to Viet Hai pier for little ride toward Ba Trai Dao beach for lunch and more kayaking and swimming before getting back on board La Regina Legend cruise at mid - afternoon.
Day 3: Viet Hai fish farm - Cai Beo ancient fishing village - Quan Y hospital cave relic - Hanoi
06:00:
Greet the new day with a Taichi session on the sundeck
06:30:
Light breakfast is served
07:30:
Transfer to La Regina Day Cruise to cruise further to Cai Beo ancient fishing village
08:30:
Take a nice bus ride through lush green jungle to visit the hospital cave relic.
09:00 - 09:40:
Visit Quan Y Hospital cave relic – old hospital built in Vietnamese - American wartime
10:00:
The bus ride to Gia Luan to board La Regina Grand Cruise for a quick shower and following a buffet brunch on board
12:00:
Disembark from the cruise as our crew sa farewell, back to Tuan Chau Marina by our speed boat.
Included:
Welcome drink
Luxury cabin with private balcony
Full meals onboard
Tourist sites entrance fee, kayak, visiting cave
Cooking demonstration
English speaking tour guide on board
Insurance
Morning Taichi onboard
Rowing boat
Excluded:
Airfare, visa arrangements
Beauty Spa & Wellness Services
Beverages, tips, gratuities and other personal expenses
Surcharge for Xmas, New Year's Day & Lunar New Year's Day
All other services not clearly mentioned above
LA REGINA GRAND CRUISE - TOUR OPTIONS:
Price & Booking
La Regina Grand Cruise Other Tours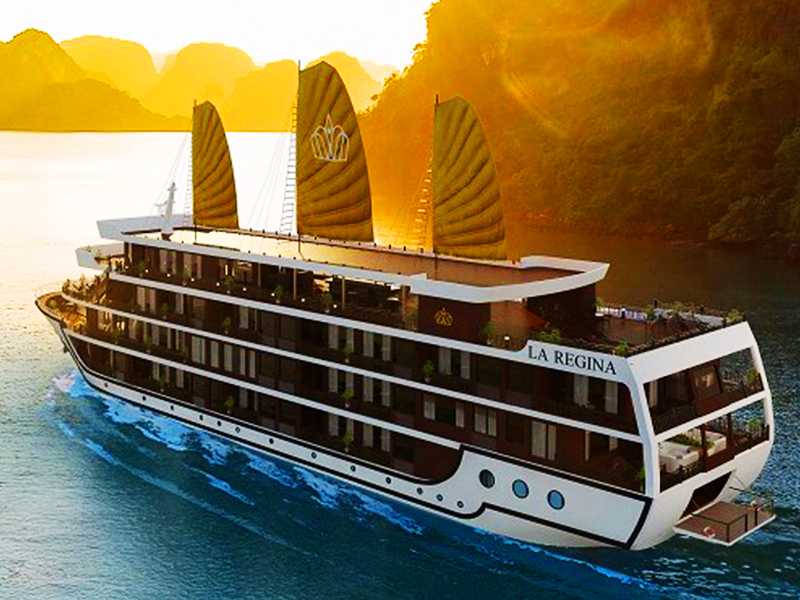 La Regina Grand Cruise 2 Days 1 Night
Day 1: Hanoi - Tuan Chau Marina - Halong Bay - Lan Ha Bay
Day 2: Viet Hai fish farm - Cai Beo ancient fishing village - Quan Y hospital cave relic - Hanoi
More Halong Bay Tours