Bhaya Premium Cruise 2 Days 1 Night
Cruise name: Bhaya Premium Cruise

Destination: Bhaya Premium Cruise, Halong Bay, Lan Ha Bay
Duration: 2 Days 1 Night
Price: $300.00 $200.00








Bhaya Premium Cruise 2 Days 1 Night
​Day 1: Bhaya Premium Cruise - Halong Bay
Day 2: Halong Bay - Sung Sot Cave
Tour Itinerary
Day 1: Bhaya Premium Cruise - Halong Bay
Departs: 12:30:
Trinh Nu Cave, where the Love Story of Halong Bay began
Your journey starts as Bhaya Classic cruising towards the southeast of Halong Bay, passing Trong Mai Islet, Ngon Tay Islet, Con Coc Islet, Cua Van Floating Culture Center. The first destination to visit is Trinh Nu Cave, one of the finest sunlight-filled cave in Halong Bay, covering an area of 2,000m2 with a stunning assortment of stalactites and stalagmites.
*Trinh Nu Cave is an exclusive destination for Bhaya Cruises' passengers during selected periods of the day.
Things To Do:
Swim in the "Love Story" area of Halong Bay: Passengers can take a swim in the jade-colored water or sunbathe on a private beach nestled behind the cave. This is when you can munch in the stunning views while indulging in the pristine water, especially enjoying the most idyllic Trinh Nu scene.
Happy Hour – Buy 01 Get 01 Free: Passengers have the chance to taste our most exquisite drinks varied vastly on selection, while enjoying the scenic panorama view of Halong Bay. Our open bar onboard is to serve the freshest cocktails made by awarded bartenders.
MasterChef "Halong Bay Edition" Competition: Vietnamese cuisine is renowned for its incredibly savory flavors and includes lots of health benefits. By being a part of this mini competition, all passengers can try out creating authentic Vietnamese dishes, with the winner of the competition awarded surprising gifts, and observe fruit carving demonstration by our chef. The Master-Chef competition also happens during the sunset, so don't forget checking out the admiring scene over the enchanting Halong Bay while Bhaya Classic anchoring for the night.
Squid-fishing like a Local: One of the most bonding activities onboard is squid-fishing, and this is when the whole group can try out the technique like a local to get the squids from the ocean while having a wonderful time all together.
Day 2: Halong Bay - Sung Sot Cave
Starts: 06:15 - Check Out: 10:30:
Sung Sot (Surprise) Cave
Halong Bay's largest and most famous cave, Sung Sot Cave, which consists of two major chambers. The first, comparable to a theatre hall, features numerous stalactites hanging from the ceiling. From here a narrow passageway leads to the massive second chamber, where a flow of natural light brightens the surfaces of a space roomy enough to hold thousands of people.
Sung Sot Cave's 10,000 square meters of space hold thousands of stalactites and stalagmites and are threaded by a 500-meter paved passageway.
Things To Do:
Tai Chi on Sundeck: Rejuvenating the body and spirit with a refreshing Tai Chi lesson as the sun rises over the acclaimed UNESCO Heritage Site is one of the relaxing experiences that passengers have. Practicing this beautiful art regularly can help treat a number of human ailments.
Be surprised of Sung Sot Cave's beauty: Paying a visit to the largest and most renowned cave will definitely awe you with many good surprises. Behold for the impeccable creation by Nature and use your imagination to connect with the ancient folklore.
Inclusion:
Welcome drink
Air-conditioned en-suite cabin
Entrance and sightseeing fees
Cave Visit
Kayaks
01 Breakfast, 01 Lunch, 01 Dinner, 01 Brunch
Onboard insurance, tax and service charges
Master-Chef Competition and Fruit Carving Demonstration
Exclusion:
All airfares, transfers, hotels and visa arrangements.
Beverages, spa, and personal expenses
All services not clearly mentioned in the inclusion list
BHAYA PREMIUM CRUISE - TOUR OPTIONS:
Price & Booking
Bhaya Premium Cruise Other Tours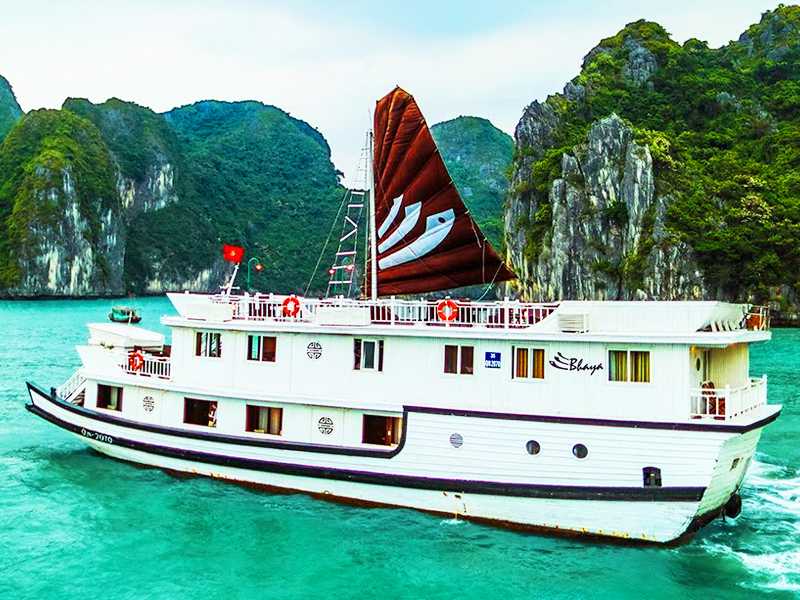 Bhaya Premium Cruise 3 Days 2 Nights
Day 1: Bhaya Premium Cruise - Halong bay
Day 2: Halong Bay - Cua Van Fisherman Village
Day 3: Halong Bay - Sung Sot Cave
More Halong Bay Tours