Alisa Premier Cruise 2 Days 1 Night
Cruise name: Alisa Premier Cruise

Destination: Hanoi - Halong Bay - Lan Ha Bay - Hanoi
Duration: 2 Days 1 Night
Price: $280.00 $220.00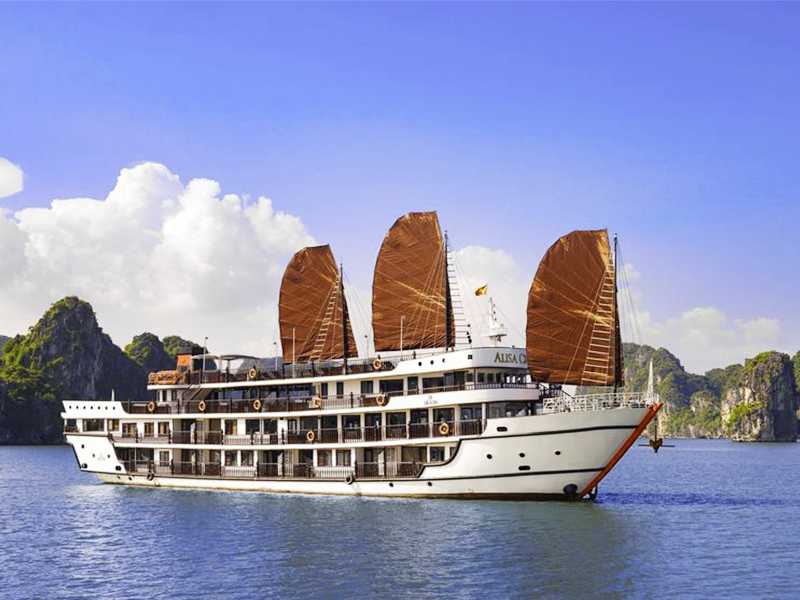 Alisa Premier Cruise - 2 Days 1 Night on Boat
Day 1
: Ha Noi - Halong - Lan Ha Bay (L/D)
Day 2
: Ha Long Bay - Ha Noi (B/L)
Tour Itinerary
Day 1: Ha Noi - Halong - Lan Ha Bay (L/D)
07:30 - 08:20:
Our tour guide and bus pick you up at your hotels in Hanoi old quarter upon your requirement. Departure to Halong Bay for 3.5 Hours and on the way you can enjoy the landscape of the Red River Delta country side
10:00 - 10:20:
Stopover at Hai Duong province for refreshment about 20 – 30 minutes
12:00 - 14:00:
Arrive at Tuan Chau harbor, take break and welcome drink at Alisa Cruise Lounge before boarding to Alisa Cruise. Welcome to Alisa Cruise, enjoy a welcome drink while our cruise manager gives a brief introduction, safety guidelines bout Alisa Cruise. Check-in your cabin and start cruising and explore Halong Bay – one of the New Seven Wonders of Nature.
Enjoy lunch with Vietnamese and International dishes served while cruising in the magnificent Halong Bay, admiring the fascinating rock formations in the bay.
14:00:
After Lunch continues to cruising exploration in HALONG BAY passing by Cua Van Floating Village, Tien Ong Cave, Trong Cave, the Ho-dong Tien cave, Luon cave... Customers also have chance to experience how beautiful are for Incense Burner, Dog Stone Islet, Fighting Cock, Soi Sim beach, Coconut Three Island
14:30:
Arrival in Lan Ha Bay in Tung Gau Area- The most beautiful area in Halong Bay with wild natural beauty.
15:00:
Continued exploration the Halong Bay. Depend on a specific day and season only 1 option will be chosen KAYAKING
Customers will have 45 minutes for kayaking around the Pearl Farm Village Area. After kayaking customers will have 2 options to continue your trip:
Option 1: Visiting Titop Island For Swimming 16:00:
Visiting the beautiful Ti Top beach for swimming (if the weather permits), Ti Top Beach is especially famous for its fresh atmosphere, clean water, and smooth white sand that create a great ambiance for tourists to relax or passengers can take steps to reach the top of Ti Top beach to have a whole panorama view of Halong Bay.
Option 2: Visiting Pearl Farm Village16:00:
Visiting Halong Pearl Farm Village. Travelers will have a chance to visit Floating Pearl Farm and see how local people produce the great pearls. This Pearl Farm Village was established in 1995 by a Japanese organization, after years run by Japanese experts, it was transferred for Vietnamese. Our guide will show you around the farm and the museum there and explained how the process is done. You will pass a floating raft where some kinds of oyster pearls are grown and transplanted such as South Sea pearl, Tahitian Black Pearl,…etc. After that, you will see a processing room where workers transplanting oysters and understand some precious species of pearl. The last, you could see one of the workers here opening an alive oyster in front of your eyes to see pearl inside and thenhave to look their achievement in the showroom!
17:30:
Come back to our Alisa Cruise and relax by enjoying Sun Set party with Juices, Cocktails, Red Vine and fruits on Alisa Sky Bar. Massage service available. Please book with Cruise Manager directly (please see massage menu)
18:00 - 18:30:
Join the cooking class guided directly by Chef of Alisa Cruise. on sundeck – Our Chef will guides how to make Vietnamese spring rolls - traditional Vietnamese food. Then enjoy Happy Hour (Buy 2 drinks get one free). It is time for chit chat and relaxes. Watch the magnificent sunset over Halong Bay.
19:30:
Time for dinner enjoying special food on the cruise at Alisa Restaurant.
21:00 - 23:00:
Evening entertainments: Evening activities include: Leisure time to enjoy a chat around the bar, watching movies and many sorts of Vietnam cultural films, relaxing and spending a romantic night on Evening activities include: Leisure time to enjoy a chat around the bar, watching movies and many sorts of Vietnam cultural films, relaxing and spending a romantic night on Alisa Cruise's music, playing cards, chess are available, reading magazines in room and dining room. You may also try your luck at squid fishing & fishing from the boat.
End of Program for Day One.
Day 2: Ha Long Bay - Ha Noi (B/L)
06:30 - 7:00:
Early morning sun risers can enjoy Tai Chi Le session on the sundeck. Tai chi also called Tai chi chuan, combines deep breathing and relaxation with slow and gentle movements. Coffee, tea, and pastries for light breakfast are served in the dining room with the morning view of bay's landscape. Morning view of bay's landscape with a cup of tea or coffee and breakfast.
08:00:
Transfer by tender to Sung Sot Cave. Walk up about 100 steps to the cave entrance. It takes approximately 45 minutes for cave visiting. Visit Sung Sot Cave, one of the biggest cave in Halong bay with beautiful stalactites and stalagmites. Return to the boat by tender. Proper shoes are highly recommended.
09:40 - 10:15:
Back to Alisa Cruise Check-out of your room and settle bills at reception. Having brunch at Alisa Restaurant on boat at 10.15 AM
11:15 - 12:45:
Arriving the harbor and get off from the boat Return to Hanoi by comfortable air-con shuttle bus
14:30 - 16:30:
Stopover in Hai Duong province to visit a ceramics workshop; WC break Arrive in Hanoi end your trip.
Tour Inclusion:
Entrance fees, taxes, and service charge;
English speaking guide;
Luxury accommodation with A/C, shower, mini bar;
Kayaking or rowing boat;
Welcome drinks;
Meals onboard ( 6 main meals + 2breakfasts)
Sunrise Tai Chi demonstration
Insurance onboard;
Cooking class on cruise
Tour Exclusion:
Drinks
Tips for tour guide and driver;
Personal expenses;
Shuttle Bus Hanoi- Halong Bay- Hanoi;
All services and items not mentioned specifically in the list above;
Round Trip Limousine Luxury Shuttle Bus:
Adult: USD 40 per adult
Children from 5 to 10: USD 30
Children under 4: USD 25
Regular Private Car
Hotel in Hanoi - Alisa Premier Cruise -Hanoi
Private Car (4seats): US$ 168 per car (2 days 1 night ) / $199(3 days 2 nights )
Private Car (7seats): US$ 180 per car (2 days 1 night ) / $230 (3 days 2 nights )
Private Van (16 seats): US$ 210 per van (2 days 1 night ) / $260(3 days 2 nights )
Hotel In Ha Noi - Alisa Premier Cruise - Hanoi Airport
Private Car (4 seats): US$ 220 per car (2 days 1 night ) - Discount = 190 USD / $240 (3 days 2 nights )- Discount = 210 USD
Private Car (7 seats): US$ 230 per car (2 days 1 night )- Discount = 198 USD / $250 (3 days 2 nights ) - Discount = 220 USD
Private Van (16 seats): US$ 250 per van (2 days 1 night )- Discount = 198 USD / $260 (3 days 2 nights )- Discount = 230 USD
Limousine Private Car
Private Car (8 seats): US$ 350 per car (3 days 2 nights )
Private Van (18 seats): US$ 420 per van (3 days 2 nights )
Children's Policy:
Only one (01) child under 4 years old sharing room with two (02) adults is allowed for FOC. The second child will be charged 50% fees of the adult price ( (No extra Bed)
Children from 4 to 6 years of age are charged 50% of the adult price, sharing a room with parent/s (No extra Bed)
Children from 7 to 10 years will be charged 75% of the adult price, sharing a twin/ double room with parent
Children from 11 years old will be considered adult
Change Of The Itineraries:
The Alisa Cruise 's itinerary may change from time to time depending on the weather forecast or the instructions given by the Halong Bay Management Authorities.
Wifi Onboard:
Wi-Fi is available on board the Alisa Cruise but is sometimes unstable due to weak signal points across the mountainous bay.
Surcharge:
Addition charge of 35 USD/ Person ( Special Gala Dinner + New Year)
Christmas 24 Dec 2018/ 2019/ 2020
New Year 31 Dec 2018/ 2019/ 2020
Lunar New Year's Eve in 2019- 2020 ( 24th, 25th, 26th, 27th Jan 2020)
Cancellation Policies:Canceling By Customer
More than 15 days prior to check-in: 20% of total rates
From 14 to 5 days prior to check-in: 50% of total rates
Less than 5 days prior to check-in: 100% of total rates
No-Show: 100% of total rates
Cancellation Due To Bad Weather:
If the cancellation is announced by the Management Board of Halong Bay, depend on the timing of the cancellation, following policies will be applied:
Before departure from Hanoi to Halong Bay (none of the services has been used): 100% refund.
During the trip (some services have been used: transfer, lunch, day trip, hotel in Halong, etc.): used services will be charged, the rest will be refunded.
The trip is cut down from 2 nights to 1 night, tourists will be charged a 2 days/1 night trip, plus other used services, the rest will be refunded.
The final cost will be confirmed by your consultant via email. In all cases, please contact us directly for any urgent help. We are here to support you with all of our best!
Here are the cases in details:
Case 1: Customers used 2 ways transfer and lunch ( No day trip) will be charged 60 USD/ Person ( 60 USD for transfers and Free for Lunch)
Case 2: Customers used 2 ways transfers and lunch + day boat trip will be charged 110 USD/ Person ( 60 USD for transfers + 50 USD or Day tour)
Case 3: Customers used 2 ways transfers and lunch + Early Light Dinner + day boat trip will be charged 119 USD/ Person ( 60 USD for transfers + 59 USD for daily tour)
ALISA PREMIER CRUISE - TOUR OPTIONS
:
Price & Booking
Alisa Premier Cruise Other Tours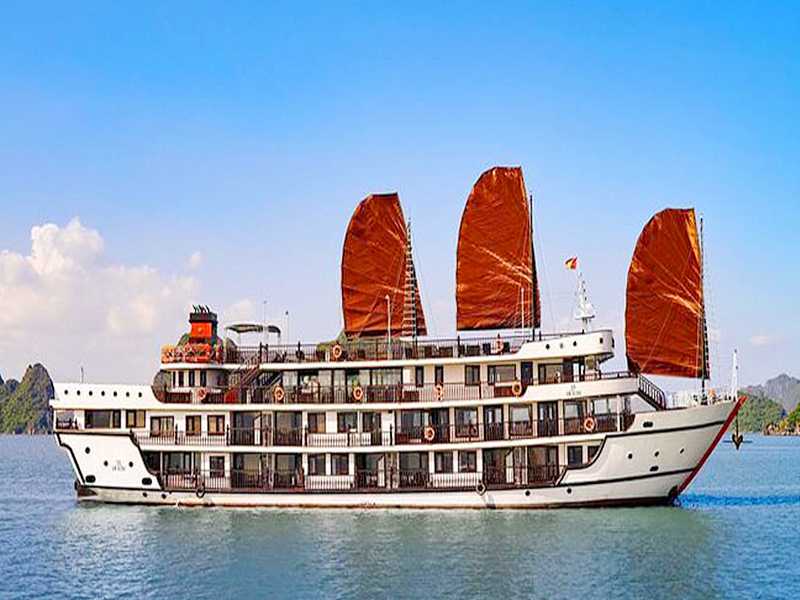 Alisa Premier Cruise - 3 Days 2 Nights on Boat
Day 1: Ha Noi - Halong - Lan Ha Bay (L/D)
Day 2: Ha Long Bay - Ha Noi (B/L)
Day 3: Ha Long Bay - Ha Noi (B/L)
More Halong Bay Tours